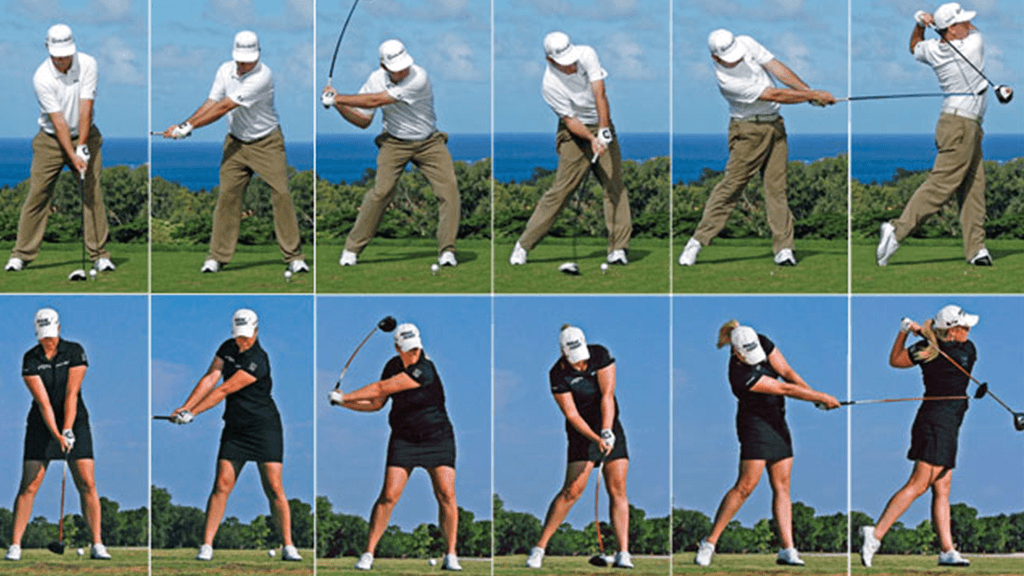 Improve your golf game with Pilates!

Posted on August 16, 2016
Hit the golf ball longer, straighter and more accurately with less chance of injury!
Did you know there are 14 muscles used in a golf swing? Given the complexity of the movement, it's no wonder there are so many injuries playing golf, especially in the shoulders, knees, and lower back. Whether you're twisting the body on a drive, squatting down to measure a putt or leaning over to pick up a ball, golfers are constantly twisting their bodies. Golf also requires repeating the same essential movements. As a result some muscles become overused and others weaken, causing an imbalance.
Practicing a regular Pilates routine can really help improve your game, and lessen your chance of injury caused by poor posture and incorrect swing mechanics.
Let's firstly break down what's happening through the body in a typical golf swing. A great degree of rotation requires the golfer to have strength and control in the shoulder, upper back, arm, core, and lower back through the various phases of the swing:
Set Up: the set up is the most important phase of the golf swing, as the quality of the outcome will be influences by the setup position. Alignment, balance, and flexion are all key in this phase of the swing. A good setup position is important in order to avoid stress on the spine and to establish a proper position for the rest of the swing.
Back swing: during the back swing, rotation of the torso works in concert with the lifting and lowering of the arms.
Down swing: proper rotation and shoulder stability is imperative during the down swing.
Follow through: muscle activity diminishes as the swing is completed and held, which requires the golfer to maintain balance and posture.
So, how can Pilates help?
Pilates is based on movement from the centre of the body, as are most shots in golf. It strengthens the centre of the body, also known as the core. Core strength can improve hip rotation, range of motion in the shoulders and back stability leading to more powerful and accurate golf shots. It is also a full body exercise that works all muscles and is easy on the joints. The end result is a flexible, symmetrically muscled body that is strengthened from the inside out.
A stronger and more stable core helps golfers:
• Attain an optimal back swing and follow-through with increased range of motion in shoulders
• Get more distance and power because of added hip and torso flexibility
• Have a stronger and bigger hip turn for greater power through rotation
• Create a smoother and more powerful swing due to evenly conditioned back muscles
• Maximize balance and alignment while rotating
• Decrease fatigue because of less strain on the body
• Hold a body position long enough to play through a shot
• Play without pain!
So, whether you're a weekend warrior, or a golfing pro like Tiger Woods and Annika Sorenstam (who are regular devotees), Pilates can help condition the right parts of your body for a great game, and aid in rehabilitation if you have a recurring injury caused by golf.
Extended Reading:
http://www.ideafit.com/fitness-library/pilates-exercises-for-golfers
http://www.pgatour.com/news/2007/05/23/pilates.html